Description
Kaxton Ceramic Rear Brake Pads for Volvo, Land Rover and Mercedes Benz
Compatible Vehicles:
Volvo XC90II (2014 onwards)
Kaxton Brake Pads Specifications:
1. 100% Replacement Guarantee
2. With Highest Friction Levels
3. With 100% Ceramic Material
4. Heat Resistant
5. Non-Slip
6. Powerful Brakes
7. Heavy Duty
8. No Iron Metal
9. No Asbestos
10. No Black Dust
11. No Brake Rotor Vibration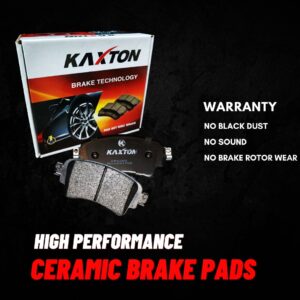 INSTALL KAXTON BRAKE PADS IN YOUR CAR TO INCREASE YOUR CAR PERFORMANCE WITH LOW MAINTANCE COST AND PROMISING LUXURY RIDE.
OUR COMPANY (KAXTON) MOTTO IS BEST QUALITY AND BEST SERVICE.
Kaxton dedicated engineering to platform specific premium materials, ensuring exceptional stopping power and quiet operation with low dust. The quiet operation with rubber core multilayer shim provides increased strength and insulation against noise
  OE-style rubber core shim
Enhanced manufacturing techniques create a high quality, long lasting shim resulting in lower noise, increased strength, and corrosion resistance. Kaxton brake pads are composed of a blend of super-strong ceramic and copper fibers embedded into the pad compound. The ceramic compounds and copper fibers allow ceramic pads to handle higher brake temperatures with less heat fade
Advanced Ceramic Friction Formula
Featuring the same aluminum-based alloy used in aerospace engineering, QuietCast copper free brake pads are 2025 Copper Free Legislation compliant. Our ceramic brake pads are way quieter than semi-metallic pads. They produce less dust than semi-metallic pads, resulting in cleaner wheels.
Protective transfer layer
Chemical formula forms a protective layer on the rotor and pad surface. This largely increases the durability and the life of the pad and the rotor.
Easy to install
Each 'kit' contains everything you need to do the job right.
Tips:
Keep away lubricants and brake oil away from braking components. Take care that they do not come into contact with the paint job on the car, as they easily destroy it.
Always clean residue from previous brake pads.
Watch out for rust, scale or debris on the braking components and mounting surface to prevent vibration that causes noise otherwise known as brake judder or brake shimmy.
Note: If you can you are not sure whether this product is compatible with your vehicle or not, or if you can't find the right product for your vehicle, then please email our support team or send us a message here.